At SoCal Spinal Decompression Center, Lee Chiropractic, Inc., we take great pride in providing the finest chiropractic wellness care to our patients. Below is a sampling of the different chiropractic services we offer in our Los Angeles office.

Many of Our Patients utilize Chiropractic, Acupuncture, and Massage Together for the Best Results!
---
We teach our patients special "blueprint" exercises to help strengthen and correct their own unique problem. These exercises can be performed in the comfort of your own home and can improve the effectiveness of your spinal correction. In addition to skeletal misalignment, muscles and connective tissues can be out of place or strained by improper alignment and use. Specific exercises and stretches can help your body stay in balance and in health.

---

We often find it helpful to "coach" our patients on certain activities they should avoid or do differently so that they don't aggravate their particular health challenge. We also provide specific recommendations on nutritional supplements and healthy food choices to enhance our patient ́s return to optimal health. Our goal is to help every patient achieve a fulfilling and happy lifestyle. Marvin Lee can provide a structured lifestyle and/or nutritional program based on your individual needs. We recognize that each patient is a whole person, and helping them reach true health and wellness is a collaborative effort between our professionals and our patients.

---
Therapies & Techniques
Muscle stimulation therapy, or e-Stim, is a therapeutic treatment that applies electrical stimulation to treat pain and muscle spasms. At SoCal Spinal Decompression Center, Lee Chiropractic, Inc. we use this therapy to help build strength and prevent atrophy in patients with muscle injuries.

---
We offer an alternative medicine therapy called myofascial release that is used for treating skeletal muscle immobility and pain. Myofascial release therapy is a hands-on treatment that utilizes gentle, sustained pressure into the Myofascial connective tissue restrictions to relax contracted muscles, improve blood and lymphatic circulation, and stimulates the stretch reflex in muscles.
---
Spinal Decompression Therapy

At SoCal Spinal Decompression Center, Lee Chiropractic, Inc. we use Spinal Decompression Therapy to help treat back or neck pain, sciatica, bulging or herniated discs, worn spinal joints, and injured or diseased spinal nerve roots. Flexion-Distraction Therapy gently stretches the spine to change the force and position of the spine. By making this change, pressure is removed from the spinal discs and bulging or herniated discs may retract.
---
Therapeutic Massage
Massage therapy offers a natural conservative treatment approach that relieves musculoskeletal pain for many patients. Our office provides specific massage and muscular therapy that is tailored to meet the patient's condition and injury. The benefits of massage therapy may include increasing blood circulation, reducing swelling, relaxing muscles, relieving muscle pain and spasms, and aid in recovery and range of motion.
---
Trigger Point Therapy
The use of massage for trigger point therapy on a regular basis can help naturally manage pain and stress from chronic injuries. Pressure is applied to a trigger point long enough to release and relax the muscle. This increases blood flow to the muscle to allow normalization and bring it back to a health state.
---

CERVICAL TRACTION
Cervical traction devices work by stretching the spinal vertebrae and muscles to relieve pressure and pain. Creating space between the vertebrae relieves compression and allows the muscles to relax. This lengthens or stretches the muscles and joints around the neck. These improvements may lead to improved mobility, range of motion, and alignment. This will allow you to go about your daily activities with greater ease.
---
DIGITAL X-RAYS
Digital X-rays benefit the patient by decreased radiation, clearer image quality for diagnosis and less wait time.

---
DIVERSIFIED ADJUSTMENT
A hands-on approach to correcting subluxations within the spine and extremities. Being that the chiropractic adjustment is our primary focus and the most important thing we provide here, rehabilitation is just as important. The adjustment will fix the subluxations, however, to maintain that adjustment it's very important to strengthen the musculature and ligaments that surround the vertebrae through rehabilitative exercises and services.

---
ACTIVATOR METHOD
A low force instrument used mainly for those with weakened or fragile bone structure such as Elderly and Pediatric patients.

---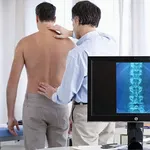 REHABILITATIVE CARE
Vibration Therapy: To stimulate muscle control, balance, bone growth
Wobble chair exercises: To restore adequate nutrients to a series of movements


---
ACUPUNCTURE
Acupuncture is a complete medical protocol focused on correcting imbalances of energy in the body. From its inception in China more than 2,500 years ago, acupuncture has been used traditionally to prevent, diagnose and treat disease, as well as to improve general health. The traditional explanation for acupuncture's effectiveness is that it modifies the flow of energy (known as qi or chi) throughout the body. The goal of acupuncture is to promote and restore the balance of energy, which flows throughout the body. The benefits of acupuncture can extend to a wide variety of conditions, from emotional disorders (anxiety, depression) to digestive complaints (nausea, vomiting, irritable bowel syndrome), and also can be beneficial for chronic degenerative disease, neurological problems, respiratory conditions, or gynecologic disorders. Acupuncture has also proved beneficial for reducing fatigue and addictions, and for promoting overall well-being.

---
SHIATSU MASSAGE
Shiatsu is a form of therapeutic bodywork from Japan. It uses kneading, pressing, soothing, tapping, and stretching techniques and is performed without oils through light, comfortable clothing. Shiatsu is a non-invasive therapy that may help reduce stress and contribute to overall wellbeing. It is thought to reduce muscle stiffness, stimulate the skin, aid digestion, and influence the nervous system.

---
AIR CUPPING
The cup is placed on the skin and a suction device removes the air from the cup to create the vacuum. The suction and negative pressure provided by cupping can loosen muscles, encourage blood flow, and sedate the nervous system (which makes it an excellent treatment for high blood pressure). Cupping is used to relieve back and neck pains, stiff muscles, anxiety, fatigue, migraines, rheumatism, and even cellulite.